What is a responsive website and what is its function?
There are more and more devices on which we can browse the Internet and as the responsive web is the best option to offer users quality content. As smartphones and tablets increasingly replace more to the classic computers and laptops, and with the passage of time they are chosen with more enthusiasm by the users of the network. So having a responsive website with proper responsiveness is extremely important.
Due to the development of mobile devices, websites are not only navigated through computers or laptops. According to an investigation, in 2019 more than 67% of Internet users browsed through mobile devices. It can only be assumed that this percentage will increase year after year. Mobile devices offer faster access to websites or stores, so it is worth adapting to these changes and allowing customers to see our content using a responsive website.
You may also be interested in: Advantages of choosing a combined SEO and Google Ads strategy
Responsive website, what does it mean?
In the simplest terms, responsiveness can be defined as fitting content to the size of the screen on which a given page is presented. The RWD website (Responsive Web Design), allows you to easily adjust the content of the website to the resolution of the device.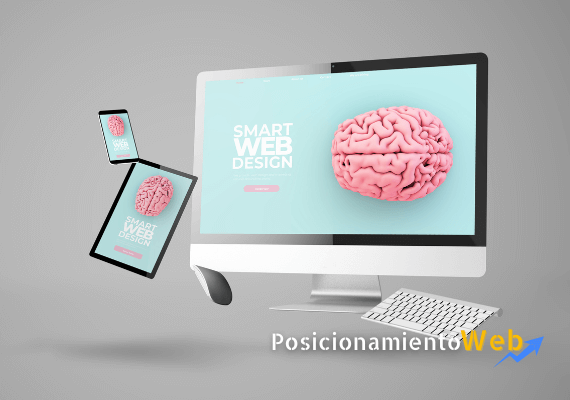 These websites look great on modern screens, standard monitors with a resolution of 1920x1080 px, but also on tablets and small smartphone screens. Responsive pages can also be displayed on SmartTVs, desktops, laptops and other devices with Internet access. However, it can look different in each of them, but without losing its usefulness.
Responsiveness is adapting the content of the website to the width of the screen.
Responsiveness of the website: the main and most important features
Designing responsive websites is to avoid a situation in which the client, after entering our website through a smartphone, cannot read its content. A responsive website provides users with ease of use and this is the most important feature of using this technology.
A responsive website also has a horizontal resizing. This is done using the full width of the screen, without having to move the page from side to side to see the content. If our website is to be responsive and its content is not displayed correctly, it should be reviewed and verified. The basic sign of unresponsiveness is that the entire page is reduced (scaled) to phone/tablet size and only Manual Zoom allows you to read its elements. The bar generally indicates that the responsiveness is implemented incorrectly.
Responsive websites are also characterized by easier navigation, of course, if responsiveness is done correctly. Site navigation may be complicated by font sizes or some decorations, which are not valid on a smaller device. As the theme of the linked buttons that must be spaced according to the device.
Finally, an extremely important argument for the use of responsiveness is its influence on positioning. In recent years, SEO has played an increasingly fundamental role in companies, so the basic element that determines the position of a website in search engines should not be neglected. Google "rewards" responsive websites as more attractive to recipients and therefore places them higher in search results.
Examples of responsive websites
Responsive websites are almost everyday nowadays. Anyone who doesn't want to be left behind should make sure that their website is designed to be displayed on any device. Consequently, it is quite easy to find examples of such sites on the Internet.
There are several ways to check if a website is responsive. The easiest way is to narrow the browser window to the width of the smart phone screen and check if the content has been adjusted to the new size. If so, it means the website is responsive.
If we don't believe too much in this solution, we have a great set of free online tools to check website responsiveness. The most popular one is "Test Mobile Friendly", a Google tool. By entering the name of the site, we get the analysis of visibility on mobile devices, as well as its preview, which can significantly facilitate the analysis of possible problems.